Future proof your influencer marketing plan.
The past 2 years have seen an exponential rise in influencer marketing as part of modern marketing strategies. As this new form of social media marketing comes to the fore, the parameters around how to plan, implement and track a successful influencer marketing plan are still organic. As influencer marketing strategy has evolved, so have the key areas in which to focus on. Below we take a look at the 5 influencer marketing trends to take note of for the future.
Global Google Trends growth in interest term 'influencer marketing'
1.Building Partnerships
One of the biggest mistakes a company can make when approaching an influencer is to view the relationship with them as purely transactional. It's easy to be blindsided by the enticement of quick wins. By creating a partnership, whether it's short or long-term, you'll help guarantee commitment and a more enthusiastic approach to the work on both parts, along with improving the longevity of your ROI.
To take your influencer relationship from transactional to partnership, treat them as a human being and not as a marketing channel, be consistent in your communication, outline what you want from the very beginning, avoid micromanagement and always approach them with the mindset that it'll be a long-term arrangement.
Also, approach the compensation part of the relationship with an open mind. Not every influencer will just be seeking a monetary transaction.
https://www.singlegrain.com/content-marketing-strategy-2/what-is-influencer-marketing-chris/
2. Authenticity
Firstly, it's important to mention that due to new FTC guidelines influencers have to be transparent about their relationships with brands. It can be argued that having to use #ad etc. will make the posts less effective as the audience will know that they're promoting a company's product. The counterargument to this is that promoted ads on Instagram were pretty obvious anyway so by making promoted posts clear and transparent, you will actually be promoting trust between you and your audience.
Secondly, like everything in the marketing world, the content which you collaborate with your influencers on needs to be unique and add value to your target audience. Blatant promotions that are in your face and offer no added value won't position your brand as an organisation that followers can engage with and create a connection with.
This promotion from Fiji Water is subtle and also incorporates extra value with an interlinked exercise programme.
3.Outside of Instagram
Although the majority of influencers do exist on Instagram, it's always worth considering other channels when searching for the right people to work with. A part of this is knowing your audience and what platforms they like to devote their time to and interact with. Lots of designers will probably also be inclined to spend a lot of their time on Pinterest, for example.
The second point worth noting when it comes to ventures outside of Instagram, is cost. Across the lesser used platforms for Influencers you'll generally see a lower rate when it comes to cost per post. If you discover a segment of your audience is hanging out on another channel too, you'll get a greater return from your investment and could even be stealing a march on your competitors who put all their influencer eggs in the Instagram basket.
https://www.socialmediatoday.com/news/the-brand-value-of-influencer-marketing-in-2018-infographic/520810/
4.Measuring ROI
The more brands start to invest in influencer marketing the more demand there is to track the success of their campaigns. A number of tools (such as the Meltwater social influencer platform) are available in the market to help you not only track ROI from influencer marketing, but identify who the right influencers are to approach for your brand. Metrics such as impressions and post numbers are a great starting point, then reach will give you a bit more detail on impact.
Influencer measurement from within Linkfluence's Radarly
Another method to help monitor successfulness is UTM parameters. This involves tagging any inbound links to your website that you give to influencers as CTAs. Expressing the source, medium and name will help you track (in Google Analytics) which specific campaign the traffic to your site came from. In the example below we used:
Source: Instagram
Medium: Influencer Marketing
Campaign name: Product001
http://www.linkfluence.com/?utm_source=Instagram&utm_medium=Influencermarketing&utm_campaign=Product001
You could also ask your influencer to apply a unique promo code to their post so that when visitors convert and use the code, you can track the source all the way back to the campaign and get more transparency on ROI.
5.Video
Building on authenticity and creating useful content, comes video. In a world where heavily edited images and over polished productions are rife in imagery, onboarding a more engaging format early is a great way to offer your audience something fresh. Whether it's across Instagram Stories, snapchat or Facebook Live, influencer video content is going to be the most impactful, converting form of content that you and your influencer can create for your audience.
Think along the lines of tutorials, product reviews, offers etc which can all be converted from image to short video with minimal effort and add extra value for your viewers.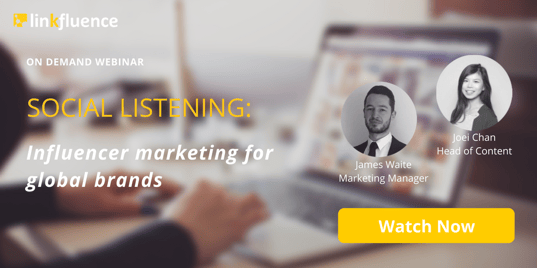 If you'd like to learn more about how to create a future proof influencer marketing strategy and see how global brands leverage influencer marketing, you can watch our latest webinar, Influencer Marketing for Global Brands, here.