Apart from being a practical part of life for many, cars have always also represented freedom of movement. From city breaks and holiday adventures to work journeys and shopping expeditions - a car takes us from A to B and, in the past, we wouldn't think twice about it. But today streets of many cities and towns are empty. What does this mean to the automotive industry?
The Coronavirus pandemic took away many of our daily freedoms, including freedom of movement. We're not allowed to use our cars as we did before and the benefits of owning a vehicle are now less appealing. What some see as a challenge, others recognise as an opportunity. We took a look at social conversations surrounding the automotive conversation and reviewed recent marketing campaigns of the industry leaders. Here's what we found out.
Surprisingly, online conversations about cars have been increasing month on month. However, the topics driving the debate changed, which demonstrates how important context is when looking at data. Let's take a look at who is talking about automotive today and which specific themes we can identify as key.
Social media as a goldmine of consumer insights
Despite decreased traffic and number of cars on the road, online conversations have been increasing since the pandemic outbreak. To fully understand the impact, more context than pure numbers is needed though. What exactly do consumers say? Who is talking about cars? What are the main points of discussion?
Source: Radarly
Of course, consumers discussing cars are also dealing with the Covid-19 crisis. As such, the focus on topics of health and wellness is obvious.
Interestingly, there's a connection between these themes and specific brands, including Porsche, Audi and Toyota. Participating in ongoing conversation surrounding the virus - from health risks to everyday lifestyle changes ensures that automotive brands are part of their consumers' life, despite the decreasing demand for the actual product.
Source: Radarly
Means of transport which underperform include public transport as consumers worry about social distancing, confined space and unnecessary exposure. This is a risk many are not willing to take.
Over the last few years, subjects of environment and sustainability have become more prominent within the automotive discussion. Today, as well topics like environment, technology and E-Mobility are still very relevant. Even during the crisis, consumers demand and support E-Mobility progress.
Source: Radarly
This is a clear signal for brands who weren't sure whether consumption of sustainable cars continues to increase. Whilst investing in new technology might be on hold for the time being, there are ways responsive and relevant marketing can ensure brands have a seat at the table. It's not so much as a one-off campaign but a long term strategy demonstrating leadership and drive.
Global brands reflect consumer values and hopes through marketing campaigns
Leading car brands have already taken action and demonstrated the industry's authenticity and proactiveness. Currently, marketing is not about selling as many products as possible, it's about the community, support and empathy. Brands like Porsche and Nissan listened to the audience and created brilliant advertising spots reflecting consumer needs.
Porsche becomes part of the furniture
With their "Dreams are made at Home" campaign, Porsche placed their masterpieces in a rather unusual environment. Instead of outdoor open spaces and city lights, the cars are in various garages, at home. And the fans love it.
With the #dreamsaremadeathome hashtag, Porsche consumers have become part of the movement and community connected not by the product but the circumstances. The campaign leverages user generated content, giving fans the opportunity to express themselves and contribute to the positive conversation.
This Cayman lives with a few other German cousins in a 7000+ sqft underground garage. #dreamsaremadeathome pic.twitter.com/K9IFTKe3Jn

— Handbaglvr (@UKWildcatgal) April 10, 2020
Nissan offers hope
With their spot "Ode To Empty Roads", Nissan focus on being there for each other through spreading good vibes and hope for the new normal after COVID-19, without mentioning it directly. The brand relies on a strong relationship with customers. "There is no doubt that we are going to pull through it and we will be stronger. It is a sacrifice we have to make today if we are going to be together tomorrow. Until we meet again."
This clear message promotes staying safe and at home, supporting efforts of governments across the world to minimize traffic and footfall.
Great work, @TBWARAAD! #OdeToEmptyRoads #StayHome #PledgeToStayHomehttps://t.co/eIUfX7yRrJ

— Sara Tate (@saraktate) April 1, 2020
Going beyond the immediate impact of the virus
Empathy and social message are not the only way forward. Brands like VW and BMW opted for a different strategy. Since it's currently not possible for customers to come to stores and view their dream car, VW brings the shop to the customers' homes. With individual online advice from interior check to the final order, VW is showing others how the future of a car buying might look like. Videos with brand ambassadors demonstrating first impressions of their new car give customers confidence in the decision making process. VW is aware that a purchase decision within such a price range is not made easily, which is why they provide a whole package of support and advice on their website.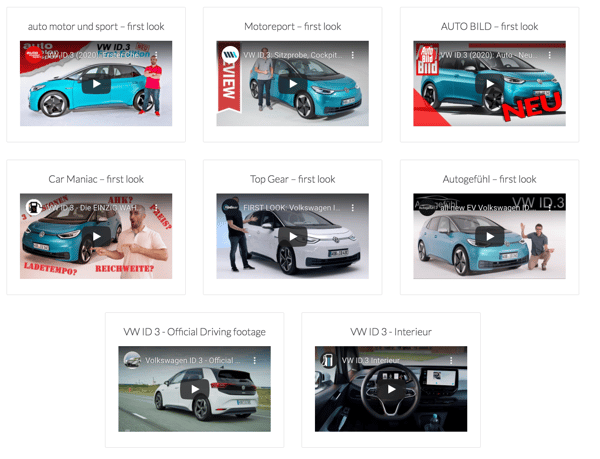 Source: id3.online
When it comes to marketing, BMW looks further ahead. They invest in sponsoring e-sports teams with an eye on tomorrow's drivers. In this way, they strengthen their brand awareness and presence with future customers in an area that attracts many viewers, especially during the Covid-19 crisis.
Source: G2 ESports
The Team G2 has 889k followers on Instagram and addresses a primarily young target group. With the sponsoring, BMW achieves an increased attention by the young audience and their future customers.
Success lies in understanding the audience
There are many ways to demonstrate creativity, responsiveness and empathy. Depending on the target audience, tactics will differ. However, what's evident is that brands avoid mentioning COVID-19 explicitly and do not try to advertise their cars. Instead, with respect for the situation, they bring hope and joy, offering alternative views and visions for tomorrow.
You want to know more about what you brand can do during the crisis? Who your targets are and what you can do to reach them? Get in touch!
If you want more social insights on COVID-19, take a look at our COVID-19 research hub.