The social distancing and lockdown measures could have meant a disaster for fitness and exercise brands. Instead, the industry seems to be booming thanks to the creativity of workouts and the digital fitness trend. Mentions of at home exercise and personalised training increased by 1837% in the last three months. For comparison, conversations featuring Netflix Netflix registered a 28% rise, despite early reports and commentary of how streaming services are likely to capitalise most on the lockdown routine.
The boom of digital fitness poses opportunities not just for the sport performance brands and apps, but also fashion and apparel businesses. As the new workout habits become part of consumer standard, daily routine - let's discover how they're likely to impact our post-lockdown lifestyle and wardrobe.
Home workout conversation during the lockdown, Source: Linkfluence Search
It's not about taking up a new hobby but about broadening horizons.
Zooming into home workouts online conversation reveals that the range of activities is particularly diverse. Instagram influencers back the trend to stay fit and healthy, and promote fitness through specific abs, legs or arms exercises. That's not the key pillar of the social media buzz though. Consumers around the world form tribes and communities around goals specific to certain fitness routines. From intense sports like running, boxing, Muay Thai or crossfit to wellbeing driven activities including Pilates, meditation, yoga - the list is long, diverse and on a continuous rise.
In the Covid-19 social distancing era, switching between various sport activities helps consumers to break quarantine monotony or achieve balance in the home/office life. Regardless of the key motivation, at-home physical activities boost positive vibes and everyday creativity.
From fitness, yoga to running, netizens (home) workouts are mixed to boost energy and daily simple self-accomplishment
Be prepared, digital fitness is trending
Similarly to the diversity of at-home workouts, digital fitness apps and services are booming. While some consumers enjoy training alone and without guidance, others prefer to follow professional training sessions. Nike Training Club has registered a significant, perhaps historic, increase of mentions and utilization during the lockdown (+ 358% in volume during the lockdown vs. two previous months). Online mentions of Puma training app, Pumatrac were multiplied by 6 in the same period. With no clear communication on gyms reopening and safety policies, digital fitness is a new component of consumers' new routine.
A no-pressure invitation from athleisure brands
American giant Lululemon recognised the need for variety early and provided its fanbase with a range of lockdown routines, suitable to its versified audience. A diary-style yoga sessions, promoting wellbeing for the body, mind and energy, cater to those who crave relaxation and spiritual guidance. An alternative option offers a more physical and intense workout out. The mix enables consumers to choose exercise right for them, without any external pressures. The digital fitness sessions and tips have been popular across the industry from yoga brands (Alo Yoga) to underwear fashion (Oysho) or wellness and beauty (Nuxe, Sanoflore).
Lululemon defining digital fitness as a no-pressure invitation to enlighten work from home activities
Among users' conversations, motivation and safety mainly explained the boom of digital fitness platforms and formats. With the unavailability of personal trainers for all and studio classes, Instagram live or digital apps providing a series of exercises give guidance, boost motivation and make results and progress visible.
"The instructional video for every exercise is really helpful to make sure I'm doing the correct way. I'm seeing progress in my body as well, that's why I'm motivated to continue. 4 steps 3 reps is very much doable. Some steps are hard to do but you know that it's good." - Online review about Adidas Training
"Its a good app for learning new HIIT workouts. Some of the trainers are really great in teaching and the workout along with basic instruction is useful. Hope to find more music within the session." - Online review about Pumatrack App
Online dance classes: to boost mood, energy and originality
Responding to the needs and wants of consumers in lockdown, and crucially limitations when it comes to sharing physical space - a new phenomenon has entered the scene, online dance classes. New dedicated platforms such as DanceFloor Paris started to flourish on the web.
The surge for online dance classes on the web since the begging of the lockdown (+2180% in volume, March - April 20 compared to Jan-Feb 20, based on 35.8K mentions)
Born during the pandemic, the 100% digital platform promotes a large variety of courses. With a crew of 15 professors teaching classical ballet, hip-hop, Jazz, Reggaeton, and African dance, the school provides easy and desirable access to the creative discipline.
DanceFloor Paris, few posts from their Instagram
Following a simple set up procedure, dance lovers can access a class and start learning with the energetic, charismatic and professional teachers. Within a few months from launch, DanceFloor Paris attracted thousands of followers on Instagram and demonstrated what traditionally required a studio and physical space being shared, can now be successfully delivered through digital means.
From studio classes, Bouchra is now teaching Afro Oriental dance on DanceFloor Paris. Her dynamic and trendy playlist, colorful outfit, and energy are now digitally available and already appreciated by at home dancers
Will digital fitness stop after the lockdown?
Considering recent announcements from Facebook, Microsoft and Google, home office is likely to be extended until the end of 2020 at least. With no specific date for gyms reopening, digital fitness shouldn't be seen as a trendy and temporary movement. It is part of the consumer's new lifestyle. With a growing tendency to (re)focus on core values, such as safety, health and personal wellbeing, home workout and digital fitness, are here to stay. With that, the need for a cozy/adaptive wardrobe emerges as an essential component of the post-lockdown reality.
Home as a central place to (e) socialize, work, workout… (photo credits: IG Camila Coelho)
Redefining the house look?
The growing importance of the home environment is reflected online. Mentions of "home sweet home" have been increasing month on month by 25% since the beginning of the lockdown. The shift has also redefined what we wear indoors. Even though some consumers predicted an end to fashion and popularized "apocalypse outfits" on social media, the increase of hashtags merging fashion and positivity, happiness and self-love illustrates how style continues to play an important role. And, similarly to home workouts, versatile wardrobe breaks daily monotony and boosts productivity.
At-home fashion: the raise of hashtags merging fashion and positivity
Comfort, simplicity, modularity. Is the fitness drive dictating fashion choices?
Redefined and stylish, Instagramable house looks allow to work and workout thanks to comfortable and modular pieces. With mentions combining sport and style, casual and chic increasing ( #sportychic, +228% in volume compared to January and February 20, or #comfylook +18% in volume), at home looks highlight consumer desire for adaptive but also stylish fashion wardrobe.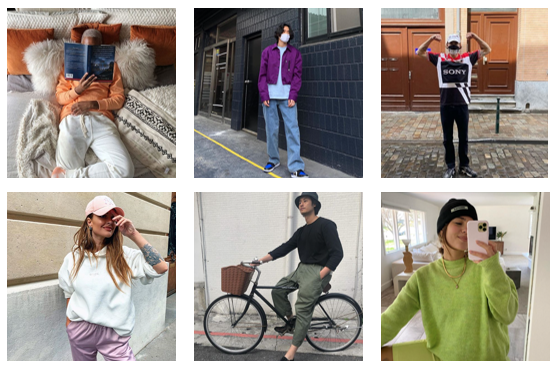 The "house look" during the lockdown and post social distancing measures
Consumers redefined everyday outfits through comfort, modularity and hint of colors. While mentions of tee-shirt and sweatshirt increased during the lockdown, users creatively displayed daily outfit and style within their digital diaries. Using strong colorful pieces to boost contrast and glamour, Instagramers enhance how pieces worn at home need now to align with their new way of living (walking, biking, working out after home office duties).
As Roksanda Ilincic argued in a Vogue interview regarding her recent collaboration with Lululemon: "we are currently witnessing how the boundaries of fashion have blurred, and people are wearing their sports gear everywhere. It is a wonderful direction fashion is headed. I have been wearing one of the long-sleeved tops with my normal clothes, and I find it looks really refreshing. It's fun to mix those unexpected colors and fabrics."
While sneakers came into the story a few years ago, sweatshirts, casual and comfortable outfits seem to be acceptable anywhere today. Fashion designers and brands should creatively adapt and incorporate this shift in upcoming collections. A couture mix, the choice of materials and colors seem to reflect the blurred lines between the home/work/sport balance.
Roksanda Ilincic x Lululemon: a collection to wear Lululemon out of the gym and transform workout clothes into fashionable and modular outfits (November 2019)
Post Covid-19 future: merging comfort and modularity with creativity and desirability?
Before the pandemic, Lululemon led the way with its streetwear collection designed by London creative director Roksanda Ilincic. However, the opportunities to merge comfort with creativity and desirability are widely opened.
In the US, ThreadBeast delivers personalized streetwear boxes directly to consumer doors. Merging users' Instagram style and online quiz, the brand bet on personalization and at home deliveries to redesign shopper approach to comfortable/street style.
ThreadBeast, a streetwear subscription box brand, delivering street and sportswear outfit directly to consumer doors
Founded by Louis Vuitton stylist and Vogue Editor, Christine Centenera, WARDROBE.NYC recently communicated on new Sports & Street wardrobe releases. Dropping capsule collection, the brand promotes a conceptual approach to luxury essentials designed for modern urban life.
WARDROBE.NYC, a conceptual rework on cohesively styled wardrobes, offering supreme quality capsules collection in limited quantities. One purchase, a playful wardrobe with qualitative and durable essentials - left picture released N°2. SPORT, right picture release n°3. STREET.
While first capsule collections focused on denim and tailored look, most recent releases redesign sporty and street silhouettes, enhancing the move toward functionality, comfort, and modularity.
Less seasonality, more comfort and modularity for an industry win
With user attitudes shifting, fashion and sports brands are urged to create clothes and collections that fit into every aspect of a daily routine. #sportychic registered over 200% increase in month on month mentions, with #comfylook and modular fashion conversation also rising steadily since the beginning of lockdown. Unleashing creativity to reimagine comfortable, adaptive and desirable fashion will be for the future of fashion.