Ahead of the EU referendum on June 23rd, we partnered with Westminster Advisers and Nick Anstead of LSE to launch the UK Political Web Observatory.
Our research explores the different political communities and their stance on Brexit, as well as the engagement and influence of the websites within these communities.
Linkfluence is a pioneer of web ecosystem analysis, having conducted these types of projects since 2006 for major brands including Danone, Coca-Cola and L'Oréal – and political clients such as Michael Bloomberg during his campaign to become Mayor of New York.
The EU referendum debate is dominating politics. In an increasingly digital world, understanding how the argument is playing out amongst online political communities sheds another light on the political landscape.
LEAVE GETS MORE TRACTION THAN REMAIN ON THE POLITICAL WEB
Similarly to current opinion polls, Leave and Remain sit fairly evenly. However, Leave gets slightly more traction, with 47% of websites expressing support for the Leave campaign versus 45% of websites that support Remain.
Opinions on Brexit are strongly polarised in all political communities, with most having a disproportionate stance. The far-left and centre-right are the most divided of the political communities.
Despite the Conservative party officially backing the Remain campaign, our research highlights that 57% of centre-right websites support leaving the EU and go against the party line, exposing the splintered nature of the Conservative party.
BREXIT SUPPORTERS ARE MORE VOCAL BUT INFLUENCE IS ON THE REMAIN SIDE
Far-left, far-right, right-wing, libertarian and centre-right communities constitute the Leave group and prove much more vocal than their counterpart: Brexit advocates strongly outnumber sympathisers (40% vs 7%), proving that Brexiteers put their heart into defending their conviction. Meanwhile, the Remain supporters adopt a softer position, with advocates making up just 27% of the Remain group.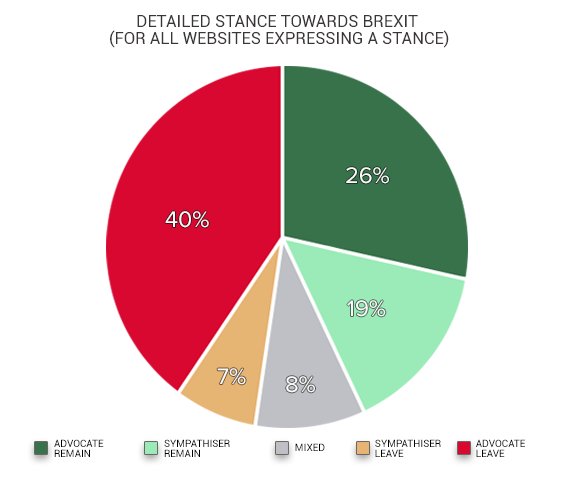 On the other hand, websites supporting Remain have greater influence than that of Leave. Of the top 30 most influential political websites in the UK, 18 back the Remain campaign and just four support Leave. Not only are there more influential websites in favour of Remain, these websites also have greater influence. The average influence score for Remain sites is 40, whereas Leave sites score only 29, demonstrating that the Remain campaign can reach a wider online audience naturally.
If you would like to find out more or explore the map, please go to the dedicated UK Political Web Observatory website!
Our social media research methodologies drive valuable, actionable insights to inform business decisions. Get in touch to find out about how we can help your brand!