Few consumer trends are more noticeable than what's happening in the sneaker world. Where buyers used to want sleek and subtle, they now want large and loud. Shoes you thought died out in the '90s are now some of the most desirable kicks on the market.
Source: Vogue
We've previously looked at other social trends, including the avocado obsession and the rise of "flexitarianism" online. We want to know what they have in common, and what brands can learn from the next big social movement.
So in this post, we're about to look at the rise of the ugly sneaker trend, what we know about this social media audience, and what we can learn from social trends in general.
But first, what is this big shoe trend anyway?
What are Dad Shoes?
If you think you've been seeing larger, more retro-styled shoes lately, it's because you have. Chunky sneakers are now a must-have item for serious fashion fans.
Known by many names - chunky sneakers, ugly sneakers, turbo trainers - this style of footwear is enjoying a moment.
Check out this Buzzfeed video of dads getting excited over these shoes named after them:
So what makes a dad shoe? As the Irish Examiner puts it, "these kicks are characterized by their massive soles, thick uppers and the kind of weird Nineties patterns your dad is probably into (bless him)."
In short, they're oversized, extra cushioned, and anything but "minimalist."
They're also the subject of much debate. Given their overstated appearance, plenty of people consider them an eyesore. Just a few headlines to illustrate:
Are These Trendy 'Dad Shoes' Absolutely Hideous or Kind of Amazing? (Men's Health)
Dad Shoes: The Ugly Sneakers That Celebrities and Designers Have Turned Trendy (USA Today)
The Fashion World is Obsessed With Dorky Dad Shoes (New York Post)
Somehow in 2018, the more your feet stick out, the more you fit in the fashion world.
How significant is this trend?
Whenever you want to see the growth in a particular movement, Google's a great place to start.
And indeed, Google searches for "Dad Shoes" have gone up quickly over the last few years:
And our social data research shows exactly the same change on social media in only around 18 months:
Source: Dad Shoes Report
So what's causing this increase in popularity?
Some fashion commentators say that this is a part of the "normcore" movement. Instead of bright colors and flashy patterns, designers are choosing to go for simple cuts and muted palettes. And when social media users see influencers in $400 grey sweatshirts, they want one too.
As part of this movement, certain shoes became accepted, seemingly out of nowhere. This includes the New Balance 624, perhaps the most "classic" dad shoe around:
Although not the most desirable turbo trainer on the market (more on this shortly), it's a shoe that real dads have been wearing for decades.
As normcore grew and retro sneakers started gaining steam, brands also began to take notice. First, the Adidas Stan Smith became the must-have shoe of 2015/16 - even if Stan Smith himself won his last tennis tournament in 1980.
And when shoemakers noticed that young people were dusting off their parents' comfortable sneakers, they started making whole new lines to match this trend.
Brands now make modern versions of retro classics
We've already mentioned Adidas and New Balance, two brands that have been making classic sneakers for a long time. Both brands have embraced the trend and re-released old-fashioned favorites.
But it's not just sports labels producing these bold and bulky fashion statements. Luxury brands like Gucci and Louis Vuitton have created their own takes on the dad shoe, as have Valentino, Prada, and Alexander McQueen.
Adidas' partnership with musician and designer Kanye West has allowed it to move into the high-end market as well. West's Yeezy range includes dad shoe favorites like the Wave Runner, which regularly resells for more than $1,500.
The ability to recognize trends and capitalize on them has kept classic brands in the mainstream. And has helped to make Yeezy, in West's own words, "the second fastest growing company in history."
Whether or not you believe that claim, it's clear that chunky sneakers are a huge value to brands, both luxury and casual.
In seeing this, we wanted to see how this trend was reflected in social media conversations.
The Linkfluence Social Data Research Team examined tens of millions of mentions online to find out who's talking about Dad Shoes, where they are, and what we can learn about them.
Read the full Dad Shoes report here.
Chunky sneaker stats: what do we know?
Social media gives brands access to an endless supply of consumer insights, what your customers love and hate. The more you know about your social media audience, the easier it is to create products and services they'll love.
Social trends (like the recent avocado craze) also let us learn more about what excites consumers. For brands like New Balance and Fila, their Dad Shoes have made them relevant to younger buyers once again.
So what do we know about the Dad Shoes trend?
It's big in the classic fashion markets
A key part in understanding (and exploiting) a social trend is knowing where in the world people care about it. In this case, Dad Shoes are popular in most major western markets:
Source: Dad Shoes Report
This graph shows where most social media conversations around Dad Shoes come from. As we can see, the biggest hotspots are in Europe and coastal cities in the United States.
Most major brands target these centers, and it's safe to assume that, if they had to choose, these are the buyers they want to reach first.
Most of the conversations are from males
When you think of fashion influencers, you probably think first of popular women celebrities and models. Gigi Hadid, Kim Kardashian, and Alexa Chung spring to mind.
And indeed, Dad Shoes are a major fashion statement for women:
But despite this, social conversations about the trend are still male-dominated:
Source: Dad Shoes Report
More than ⅔ of all dad shoe mentions come from males. Maybe it's just a matter of language - we're talking about "Dad Shoes," after all.
But it might surprise many of these fashion houses that the market is so male-dominated.
What's not surprising in those graphs above is the age distribution. As we've seen previously, millennials dominate social media. Moreover, social media trends are almost led by young people.
But it's a useful confirmation of what we probably already knew: they may be known as "Dad Shoes," but it's young people who wear and care about them.
The top branded hashtags are a range of casual and luxury companies
The first question that any brand has when looking at social media trends is, "are they talking about us?" If you work for Balenciaga, Nike, or Adidas, the answer is "yes:"

Source: Dad Shoes Report
There are a few interesting takeaways from this chart. The first is that, despite being a high-end fashion label, Balenciaga is the most brand most commonly associated with Dad Shoes. That's because of one particular item it produces, which we're going to look at in more detail shortly.
And while Nike is next on the list, don't forget that Yeezy is an Adidas brand, so the third and fourth spots can be thought of together.
If we only look at the top five cities for dad shoe mentions, it's Yeezy and Balenciaga that have the greatest share of voice:
Source: Dad Shoes Report
These are major markets, and the two brands will be happy to occupy such a large share of the conversation.
Those were just a few key highlights of the demographic information brands can now have easily thanks to social listening and data analysis. The rest of the takeaways from the Linkfluence team's research are available free in this report.
Next, we want to look a little closer at one particular dad shoe at the head of the trend.
Balenciaga Triple S: star of the Dad Shoes movement
If you didn't recognize the name "Balenciaga" when you saw it above, you're probably not alone. The high-end label is a big name in the fashion world but doesn't exactly reach the average retailer.
It's known for producing very bold clothing, including a $9,000, seven-layer jacket, and a dress patterned with Microsoft Word fonts.
But its brightest star at the moment has to be the Triple S. These large, garish shoes are now the poster-child for chunky shoes: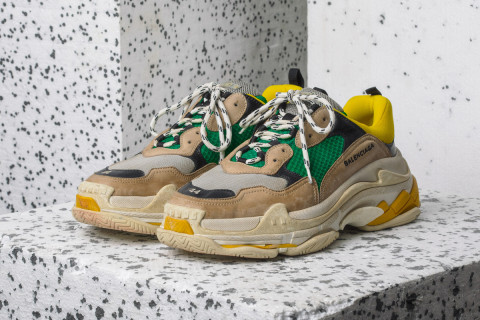 In fact, the popularity of the Triple S appears to follow the growth of the chunky shoe trend overall:
Source: Dad Shoes Report
The rise in conversations around chunky sneakers coincides with the release of the Triple S. This is likely due to a few factors:
The limited number of pairs released makes them highly sought-after
The high price (often more than $900) makes them a clear status symbol
The distinctive design - there's no mistaking them
It's interesting to find a lesser-known brand dominating conversations around a social media trend. Other manufacturers will want to look closely at what customers say about the Triple S, and see what they can learn from them.
That's what makes this social listening so powerful. By drawing trends from millions of online conversations, you can quickly find out what makes certain audiences tick.
Why social media trends matter
Trends have a huge impact on buyer decisions. People buy things in large part because others buy them. And when certain fashions take hold, consumer brands need to know how they can use what's en vogue to their own advantage.
Studying social media trends helps brands in two key ways:
1. Speaking out: boost your message by finding and joining conversations
You may already have the perfect product for the next new craze. Imagine you're just like New Balance, and the "ugly" shoes you sell for cheap are suddenly back in style. You just need to let people know they (still) exist.
To get your message out there, you need to reach the right audiences. Social media lets you first learn more about the kinds of people talking about a particular trend and then gives you ways to reach them directly.
This could be with advertising, influencer marketing, or more organic hashtag campaigns. Whatever the case, the more you know about the audience you're targeting, the more likely your campaign will make an impact.
2. Looking in: create products and services your clients will love
Another reason social media trends are so interesting for brands is that they let them improve their offerings to fit a specific audience. We already saw above that both luxury and everyday sportswear brands have been able to tap into the chunky sneaker movement.
Another example is the increasing supply of vegan consumer goods. Social media is awash with conversations about veganism and more ethical food choices, and brands have been able to release new products that cater specifically to this market.
Every social media comment is another piece of valuable information to brands. It's never been easier to know what people say about your products, your competitors, and your market. You just need to put that information to use.
Study social media trends to make smarter decisions
Our Dad Shoes report gives an inside look at one of the top fashion trends of the last few years. If you're interested in consumer trends and how social movements spread online, you'll find great insights. Check out the full report:
But the next social trend may already be happening, and it could impact your business directly. For good or for bad, you need to know what's driving buyer decisions, and social media can give you those consumer insights.
It's a never-ending source of user reviews, comments, complaints, and praise. And all of this helps you understand your buyers and serve them better.