From people Instagramming their most impressive yoga poses to posting Facebook updates singing the praises of kale and pomegranate salads, it seems our preoccupation with wellness has taken over pretty much the entire internet.

The global wellness market has grown 12.8% in the last two years, transforming it into a $4.2 trillion industry and with good reason. According to the Mental Health Foundation, we're working longer, playing harder, and three out of four of us have expressed feeling "overwhelmed" or "unable to cope" in the last year.

It's no wonder that we are increasingly searching for new ways to improve our mental and physical wellbeing. And brands and agencies are jumping on the trend.

In celebration of Mental Health Awareness Month, we've put together an in-depth report on The State of Wellness, to examine how people talk about health and wellness online, and how different brands and industries are tapping into the trend.

In this post, we'll show you how we put this report together, and give you a taste of what we found. To kick things off, let's take a look at the rise of wellness online.
The rise of "wellness culture"
If you feel like you're seeing more colorful salad bowls and hashtags like #selfcare and #wellness on Instagram, you're not alone: wellness really is taking over the internet.
After all, wellness is much more than just a popular topic or fad - it's an entire online ecosystem of information, advice, guidance, reviews, and suggestions.
Online wellness discussion seeks to find better ways to for people to become aware of, and to make choices to support, a healthy and fulfilling life.
Teaching spin is one of my favourite ways to spend an hour. It's especially awesome when I get to see my friends red-faced and sweaty #wellness pic.twitter.com/uy45az7RVm

— Lori Minassian (@loriminassian3) May 16, 2019
Wellness encompasses a huge range of topics and themes, including physical wellbeing and mental health, diet and nutrition, lifestyle, beauty, technology, social habits, and a lot more.
It's not hard to see why wellness has emerged as such a popular topic in recent years. With the frantic pace of modern life, and the number of things competing for our attention at any one time, more people are looking for better ways to stay physically and mentally balanced.
And this trend has come through in data from every single social media platform.
Because we're such a curious bunch, we wanted to find out more.
What we wanted to find out about wellness
There are so many different ways people talk about wellness online, from people discussing the benefits of mindfulness and meditation, to die-hard fans of Ayurvedic herbs.
And as we've seen in our analysis of the exploding market for CBD products, health-conscious consumers are always looking out for the next big thing when it comes to wellness and balanced lifestyles.
CBD oil - a billion-dollar wellness trend in 2019. Source: Entrepreneur
So, given the depth and variety of online wellness discussion, we wanted to get to the bottom of a bunch of key questions. Specifically, we wanted to find out:
How is wellness talked about online?
Who are the key players talking about wellness?
What are the key drivers of conversation?
Which industries and companies are considered the best in class?
How can brands harness wellness trends and preferences?
We set a timeframe for our social data research, aggregating social media exchanges in the US and in France for a ten-month period from 1st May 2018 to the 31st of March 2019.
Then, we used Radarly to run a series of semantic queries concerning popular wellness topics, including food and nutrition, mental health, physical habits, and trends in technology.
So, what did our study tell us about the state of online wellness?
The wellness revolution: what do we know?
To start off, we found over 210 million conversations about health from social media users in France, the United States, and China.
Source: Linkfluence Wellness Trends Report
1. Wellness has experienced an explosive growth on social
A few years back, wellness discussion was a fairly niche topic. Now, all of that has changed.
From our social data analysis, we estimate a massive 5.26 billion social media accounts have been exposed at one time to conversations or exchanges concerning wellness.
For brands, wellness culture is a disruptive force, causing many brands to re-orient their values to reflect those of consumers.
This exposure can be attributed to the recent growth of wellness as a topic for discussion on social media, as we can see in the following graph:
Source: Linkfluence Wellness Trends Report
We expect this growth to continue through to 2020 and beyond, driven in large part by the highly visual nature of wellness discussion.
2. Wellness is a highly visual topic
In case you haven't noticed already, wellness is a highly visual topic, with a huge popularity on visual platforms like Instagram and Pinterest.
In fact, we found that 61% of wellness content on social media is visual:
Source: Linkfluence Wellness Trends Report
It's not hard to see why wellness content is predominantly visual. For a lot of social media users, seeing attractive images of relaxing activities or delicious (and healthy!) food can be very calming.
Not only that, but images promoting wellness can inspire others to pursue wellness within their own lives, too.
3. Most of the conversations around wellness are driven by women
When you think about salad bowls, yoga, and scented candles, you probably think first of female lifestyle bloggers and influencers. And the statistics agree; most UGC content is generated by women, especially in France:

Source: Linkfluence Wellness Trends Report
What's surprising in those graphs above is the age distribution. Most social media trends are led by young people (as we've seen previously, millennials dominate social media.) But not for wellness. From our social data analysis, wellness appears to be a topic that interests people of all age groups.
4. Not all platforms are the same when it comes to wellness
Pretty much every platform hosts a huge number of exchanges concerning wellness. Interestingly, however, some platforms are more popular than others.
As we can see from the data, Instagram leads the pack when it comes to conversations and exchanges concerning wellness, with at least twice the amount of exchanges as any of the other platforms:
There are a few reasons for this. First, as we've noted, wellness is a highly visual topic. But another factor at play is Instagram's light-touch written commentary: all users need to do is select a hashtag or two, and their post can get a lot of exposure.
5. Micro-influencers drive the highest engagement around wellness conversations
As with a lot of subjects for online discussion, wellness conversations tend to be driven by a range of influencers, each with differing degrees of reach and engagement.
Looking at the different amounts of engagement, we can see celebrities interested in wellness are able to drive a huge amount of reach per post. No surprises there - after all, they're the ones with the huge public following:
However, when it comes to the quality of engagement, this is where influencers working on a smaller scale can really excel. This is because niche and micro-influencers are often seen as being more of an authority on wellness topics, and work hard to cultivate a dedicated online following.
One other thing we found? Wellness is a highly interconnected topic.
6. Wellness is an interconnected topic
Wellness is seen by social media users as a holistic concern, with a whole ecosystem of interconnected topics, including all aspects of physical, mental, and social wellbeing.
No matter whether you're a mountain climber, a daily meditator, or simply someone with an interest in finding time for peace and quiet in a busy world, there's room in the wellness tent for you.
7. Different sectors blending and reshaped around wellness
This interconnectedness is manifesting in business as well. As consumers see wellness as a holistic, transversal topic, they're speaking out products and services that promote different sectors increasingly tend to blend together.
Like in the case of
Dad shoes
, with luxury brands launching sports shoes:
Source: Dad Shoes trend analysis
Or sportswear brands launching streetwear,
or "athleisure"
: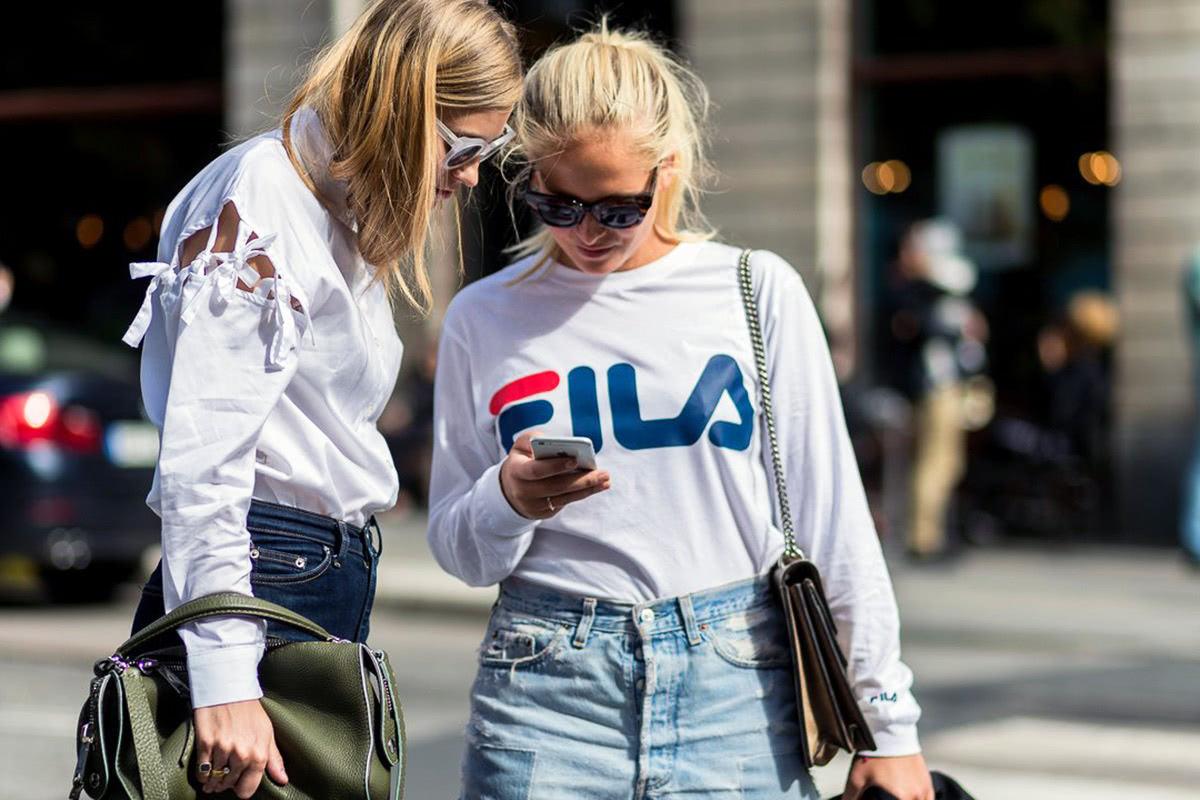 And hipster cafés that offer yoga and meditation classes:
Increasingly, we're observing cross-secteur convergence as brands capitalize on wellness, making it harder to separate markets into individual buckets.
Wellness is huge - and shows no signs of stopping
As our trend report shows, there's a lot to unpack when it comes to online discussion around wellness. Social media interest in this topic is diverse and varied, reflecting the wide range of interests people have around fitness, diet, beauty, technology, and more.
And as the numbers suggest, wellness is a mega-trend with no signs of slowing down. As more and more people become interested in how to live a more balanced life, there are plenty of opportunities for brands to provide the products and services they need.
By putting these wellness topics under the microscope, we identified a number of opportunities for brands to align themselves with the focus on wellness.
If you're interested in consumer trends and how social movements spread online, you'll find great insights. Check out the full report on this mega-trend:
P.S. We used our social media intelligence platform Radarly to identify and track online discussion on a range of health and wellness topics, assessing the popularity of these topics in both the United States and France.
If you'd like to know more about what our social listening platforms could do for your business, don't hesitate to get in touch: