If you've been outside this summer, you'll no doubt have noticed the number of people drinking low and zero-alcohol beverages.
What was once a market segment offering just sodas and juices, low-alcohol drinks have seen a huge surge in sales over recent years, and a massive boost in variety. Given 37% of consumers are looking for ways to cut down their alcohol intake, this has now become a crucial market.
Combine this trend with the growing focus on wellness and the recognition of the downside of drinking, and the rising popularity of low-alcohol beverages is set to have a huge impact in the coming years. However, brands shouldn't see this simply as a threat - it's also an opportunity.
In this article, we'll take a closer look at the 'sober curious' movement, and examine who's leading the interest in low and zero-alcohol beverages, what exactly consumers are looking for in these products, and how brands can stay on top of this trend.
So, crack open a can of coconut La Croix, and let's begin!
The 'sober curious' movement
It's official: You can wave goodbye to your lame club sodas and cranberry juices. These days, alternatives to alcoholic drinks have never been sexier.
For years, beverage industry commentators have noted the growing interest in low and non-alcoholic drinks such as kombucha, seltzers, and low-alcohol beers. Then there's the rise of zero alcohol 'spirits' like market darling Seedlip, recently bought out by leading brand Diageo.
Ben Branson, founder of spice-based non-alcoholic 'spirit' Seedlip. Source: Guardian
It's all part of the 'sober curious' movement, where consumers aren't necessarily giving up alcohol completely, but are looking for options besides traditional alcoholic drinks. This includes low-alcohol versions of classic staples, like low-alcohol gin & tonics and zero-alcohol beer.
The sober curious trend has even given rise to alcohol-free bars in New York City, London, and other major destinations. Then, there's the rise of sober curious influencers drawing thousands of fans to the lifestyle and offering tips on great products to try.
Hello fellow "sober-curious" kids!

— The New York Times (@nytimes) June 17, 2019
This growing thirst for alternatives to traditional booze has beverage brands paying close attention. In fact, 8% of Brewer AB InBev's global sales now come from zero and low-alcohol beers, and the company has set a goal of reaching 20% of sales in this category by 2025.
These trends help explain why seltzer - in both its 'hard' alcoholic and 'soft' non-alcoholic forms - has become the official drink of the 2019 summer. This could be because it has fewer calories, lower alcohol (in its soft form), and is an attractive product overall.
This love affair with seltzers isn't just a hunch, either. Take a look at the massive mid-August 2019 bump in social media activity about seltzer, and see for yourself:
Source: mentions of "Seltzer" in the last 3 months on Linkfluence Search
This helps explain the current boom in the seltzer industry, with investors pouring millions of dollars in venture capital into beverage brands like La Croix, White Claw, and Truly.
Now, let's take a look at who exactly is behind the trend to drink less booze.
Who is behind the push to drink less booze?
As millennials become the dominant force in determining food and beverage trends, it can be tempting to see the interest in a low-alcohol lifestyle as purely a millennial thing.
However, while plenty of millennials are increasingly looking for ways to focus on their wellness and cut down on booze, they aren't the only ones driving this trend.
Other key groups with an interest in these products are older people looking after their health, busy parents who can't afford to be hungover, and athletes wanting to enjoy a drink without affecting their performance.
For a great example of this, just take a look at German olympians and their love of non-alcoholic wheat beer. During the 2018 Winter Olympics, breweries distributed thousands of pints of the stuff, helping keep athletes and supporters hydrated and satisfied, all without alcohol.
Non-alcoholic beer is a great source of hydration for German athletes. Source: NY Times
So, that's a quick overview of the sober curious fanbase. But who are the key online audiences interested in low-alcohol beverages?
Who are the key online audiences for low-alcohol beverages?
There's a wide interest in the sober curious movement, with a range of audiences focusing on nutrition, wellness, and active lifestyles.
The diversity of this audience really comes through when we take a macro look at social media exchanges. For a great example, let's take a look at the key demographics for users posting about sober curious, low-alcohol, or alcohol-free lifestyles:
Source: Linkfluence Search
As we can see, there's a broad representation of age groups here, and a reasonably even split in terms of gender - although men do edge ahead in certain groups, most notably 18-24 year-olds and 55-64 year-olds.
This suggests the sober curious trend isn't just for younger people. Media outlets such as the Guardian and Vox have come to the same conclusion, noting that consumers of all ages are driving an interest in alternatives to drinking as part of the wider obsession with 'wellness'.
Now, let's take a look at the key demographics of one of the most valuable markets out there: seltzer fans.
Source: Linkfluence Search
Here, the demographics tell a different story. These posts are heavily dominated by the 18-24 year-old and 25-34 year-old age groups, with a consistently larger number of women posting. Turns out seltzer might be more of a millennial thing after all!
To round things off, let's compare these demographics against the online audience for kombucha, another leading non-alcoholic drink with a dedicated fan base and a huge potential for future growth.
Source: Linkfluence Search
As with seltzer, the interest in kombucha does seem to be driven primarily by younger social media users, and is similarly dominated by women.
Surprisingly, although seltzer is having a real moment right now, kombucha attracted more than double the overall number of posts and exchanges during the same time period.
With all this interest in low and zero-alcohol alternatives, beverage companies are looking for ways to position themselves to be the next big thing. And the more you know about your audiences, the better.
Of course, there's more to audience analysis than volume and demographic breakdown. Here's a qualitative analysis down by our social data analysts on the different tribes and communities talking about Kombucha, for example: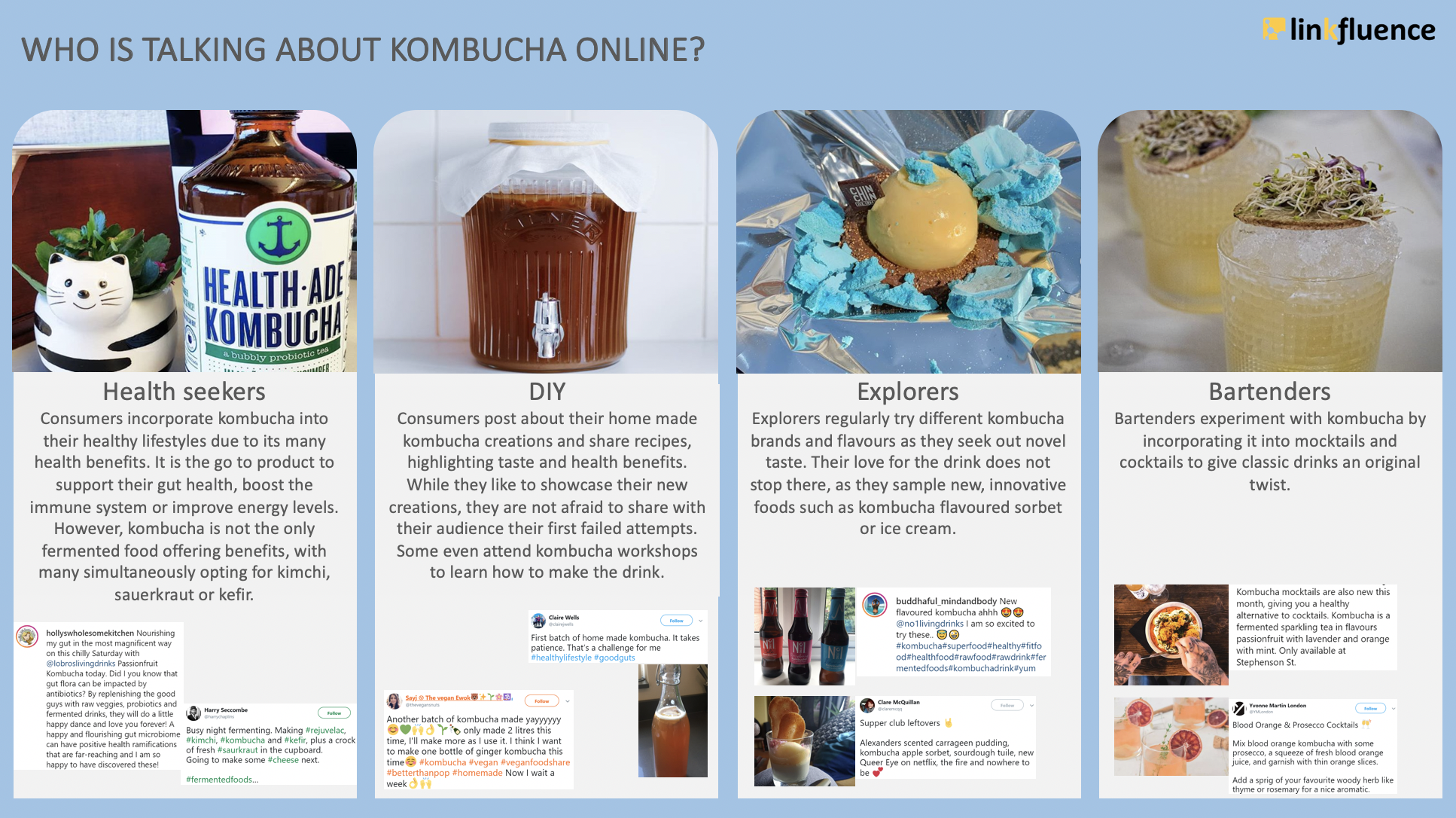 To really understand a trend and the audience driving the trend, you'll want to mix up quantitative and qualitative data.
But let's back to low-alcohol drinks. What exactly are consumers looking for?
Bold, fresh, and non-alcoholic: What do consumers want?
As industry observers note, the low and zero-alcohol beer category is seeing a real uptick in popularity. This isn't just because people are looking for ways to drink less booze - consumers also appreciate variety, and like to have access to more options.
Traditionally, those wanting to avoid alcohol had few alternatives available besides sugary sodas or juices. With the rise of quality zero-alcohol products, however, consumers now no longer have to choose between different varieties of the same super-sweet alternatives.
The popularity of brands like La Croix, White Claw, and Seedlip shows modern consumers are looking for:
Health: People want lower alcohol content, fewer calories, and natural flavors
Variety: Fans love having access to a range of flavor choices and drink formats - this helps explain the seemingly endless range of La Croix flavors
Refreshment: People expect non-alcoholic drinks to be equally thirst-quenching
Acceptance: Consumers looking for low or non-alcohol options don't want to feel like outcasts just for avoiding alcohol - having a delicious range of alternatives really helps
My new barber called me beautiful so I tipped him with a grapefruit La Croix

— shania twink (@phillipethao) July 1, 2017
For companies willing and able to adapt to these tastes, there are huge potential upsides. In this growing market, people are willing to pay a premium for great low-alcohol options. In fact, some bars are charging more for a Seedlip cocktail than regular alcoholic options.
The rise of these trends are a great reminder of how important it is to pay attention to changes in the market - even changes outside of your core business.
Stay ahead by detecting trends beyond your product category
Tastes are always changing, and so are demands for new food and beverage products, including low to zero-alcohol beverages, and alternatives to traditional alcoholic drinks.
In today's market, brands of all shapes and sizes must pay attention to trends emerging beyond their core product categories. Even if it means deviating from business as usual, brands should find opportunities to take advantage of these trends.
That's why companies like Danone pay so much attention to trends such as veganism and lactose-free lifestyles, and why Amazon invests so heavily in its content production arm alongside its product delivery capabilities.
Given the increasing thirst for low-alcohol beverages, drinks brands should pay close attention to movements in the market, and look for opportunities to establish a presence.
As noted by AB InBev Europe marketing VP Julie Yufe, the trend in low-alcohol products shouldn't be seen as a threat for drinks brands. Instead, it can be an opportunity.
"I think this is a positive story for consumers and a positive story for brewers," she says. "It gives us a lot of flexibility, and it allows us to be in lots of places where we had previously never been."
This open attitude explains AB InBev's unveiling of its Budweiser Prohibition Brew, a zero-alcohol version of its much-loved beer.
Budweiser's Prohibition Brew, a popular zero-alcohol beer. Source: Premium Near Beer
With the growing interest in low-alcohol drinks, it's important for companies to understand consumer preferences, and to listen to what people are saying online.
Consumers are constantly sharing their opinions and information on these products in detail, and they want to know their favorite brands are listening and paying attention. Social media offers the data to understand these trends, and to anticipate future movements in the market.
No booze? No problem!
The world's obsession with low-alcohol drinks has gone far beyond Dry July.
Now, there are great opportunities for beverage brands to get in on the booze-free action, and to market low and zero-alcohol products to the growing global market.
As we've seen, the rising popularity of drinks like seltzer, kombucha, low-alcohol beer and others are being driven in large part by exchanges and interactions on social media.
Fortunately, these interactions give businesses the tools and resources they need to understand these trends and provide products to suit the market demand. All you need to do is pay attention.
Want help with paying better attention to what consumers are saying? We've got the tools and expertise you need: