Since the beginning of #MeToo and #Time'sUp movements, positive gender portrayal and diversity have become central concerns for all brands and businesses.
But when it comes to actually shifting the dial on the portrayal of women and diverse communities in advertising, it turns out change is a lot easier said than done.
This is especially true for the wine and spirits industry. Traditionally, ads for alcohol products have painted a very male-dominated view of the world, with women featured mostly as eye candy, or as passive objects to be conquered or attained.
Recently, I attended the Digital Marketing World Forum in London, where I heard a fascinating presentation from Diageo, the world's largest wine and spirits brand, on leading change in the portrayal of women in their advertising.
In this post, I'll look at how Diageo champions positive gender portrayal, and show how telling diverse stories has boosted their advertising ROI by as much as 70%.
First, let's dig a little deeper into how gender is portrayed in advertising today.
The state of gender portrayal in advertising
It's not exactly news to point out that advertising across all mediums and markets still struggles with the realistic portrayal of women and diverse communities.
Of course, there are brands like Nike, that actively creates campaigns that actively challenges gender stereotypes - like this new "Dream Further" campaign for the Women's World Cup:

After all, for every ad like Nike's "Dream Further" campaign for Women's World Cup, there's a handful of ads for Mr. Clean, Burger King, or Yorkie, which reinforce outmoded conceptions of women as domestic, overtly sexualized, and lacking in agency.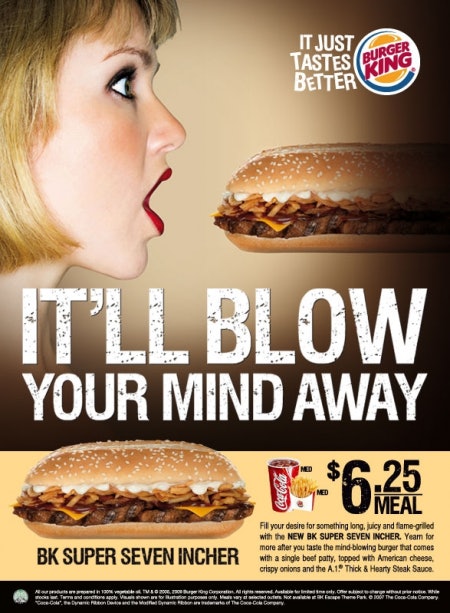 Burger King "blow job" ad. Source: Bustle.com
One sector that is especially lagging behind the others? The wine & spirits industry.
As explained by Malcolm D'Sa, Diageo's Marketing and Brand Development Director, men feature four times more often in alcohol ads than women. What's more, of the characters shown as being employed in these ads, three quarters are men, and just one quarter are women.

Statistics on gender representation in advertising, DMWF 2019
This is particularly confusing considering 80% of household purchase decisions are made by women. Not only that, says D'Sa, but research has shown viewers tend to screen out ads that include negative depictions of women.
Fortunately, these outdated attitudes are starting to change - albeit slowly.
Alcohol brands are now realizing the need to reflect the full range of consumers within their advertising, and are focusing on telling realistic stories about all of their fans and customers.
Even beer advertisements, which have long been the domain of frat-house men, are starting to feature women in more prominent and nuanced roles. We can see this in Coors Light's recent 'Climb On' campaign, showing women actively pursuing their hobbies and passions.
Coors Light's 'Climb On' campaign. Source:
Ad Age
But where should brands start when it comes to positive gender portrayal? Diageo is here to break it down.
Fair and positive gender portrayal - where should brands start?
As Malcolm D'Sa notes, improving gender portrayal is easy to talk about. In practice, however, it can be challenging to get right.
First, you need to take a hard look at the status quo. Diageo started by assessing the portrayal of gender and diversity in their advertising, including counting the number of appearances of men and women, and tracking screen time.

Gender representation and portrayal in Diageo communications, DMWF 2019
And because fair gender portrayal isn't just a numbers game, Diageo also examined how women are being presented in their advertisements, including whether they were being shown as having control, making decisions, or displaying agency.
Once the company had a detailed sense of the status quo, they could develop a framework to guide the development of better, more realistic advertisements.
Diageo's gender portrayal framework
To encourage the positive portrayal of gender and diversity in their advertising, Diageo developed a framework to guide ad production, focusing on four key questions:
Representation: Who's being shown in the advertisement? Who has a speaking role? Who are the brands for? Are women shown in supporting roles, or central roles?
Perspective: Who seems to be driving the action in the world of the advertisement? Who is framing the story? Who is behind the camera?
Agency: Do the women we see behave in ways that suggest they are in control of and understand their lives? Are they shown as making decisions?
Characterization: Does the advertisement develop rounded characters? Do the women shown have characteristics that go beyond their gender?
As D'sa acknowledged, we all have a degree of unconscious gender bias, and this bias comes through in our response to advertisements. This four-part framework allowed Diageo to focus on telling real, diverse stories about its customers.
Diageo held workshops with all marketing and brand development teams to examine previous ads and discuss how these could be improved. These workshops helped spread awareness of the issue of gender portrayal, and led to a number of breakthroughs for creative teams.
The company also adopted human resources and hiring policies to reflect its framework, and rolled out a unified set of brand communications committed to positive gender portrayal.
These commitments extend to Diageo's ad agency partners, too. Unfortunately, not all of these agencies are quite as on the ball as they should be, and some have been slow to respond to questions around diversity and inclusion.
Diageo is pushing for its brands to make diversity a priority. Source: The Drum
Tips from Diageo for improving gender portrayal in advertising
As the Diageo example shows, the fair portrayal of gender and diversity within advertising requires a deliberate, dedicated approach. Malcolm D'Sa had a few more handy tips for us.
Use research and behavioral insights to drive change
To make positive change, you need to start with detailed research and market insights.
Whether you're conducting an internal human resources audit examining representation across all levels of seniority, or simply reviewing your brand communications, you need to start by gathering the facts.
Once you have this information, you'll be better placed to understand where the gaps are, and where you have room for improvement. That's why Diageo started with a detailed exploration of the status quo of their own brand communications.
Next, as a global brand with international presence in numerous local markets, they also conducted market research on the different gender stereotypes women experience across the world to adapt their approach to each market.

Gender portrayal stereotypes in different countries, DMWF 2019
Develop a gender portrayal framework
Changing human behavior can be a complex exercise - especially at a company level.
This is why Diageo developed its detailed gender portrayal framework, and focused on making this framework easy to understand. The company's employees could then use this framework to make better decisions in how they portray gender and diversity.
And remember: a framework is only useful if people know about it. Consider holding workshops or training sessions with company employees, including everyone who speaks on behalf of your company, including your agencies, partners, and subsidiaries.
Here's an example of an agenda of one of their training programs:
Set ambitious goals for change
When it comes to setting goals for the exercise, says D'Sa, you need to think big.
It isn't enough to just add a few more women into your advertising and pat yourself on the back. Instead, you should commit to ambitious improvements, like doubling the number of women given meaningful roles within your advertisements.
And more importantly, don't make gender and diversity a human resources issue. Your gender portrayal program should be led by C-level individuals, as well as within marketing and product development teams.
Measure your gender portrayal progress with systems
Finally, says D'Sa, you need to have systems in place to measure the business impact of new systems and policies around gender portrayal.
For example, be sure to track brand sales and engagement after new advertising is rolled out, and compare this with your previous advertising.
And speaking of business impact...
Business impact of addressing gender portrayal
For Diageo, committing to a more positive gender portrayal has had a significant positive effect on their business.
This shouldn't be a surprise. After all, as noted by D'Sa, most household purchasing decisions are made by women - it makes sense that advertising reflecting a more balanced and realistic portrayal of women would perform better.
For example, D'Sa mentioned a Guinness campaign in Cameroon featuring football superstar Gaelle Enganamouit, and including a personal dialog about what the brand means to her. This was a new artistic direction for Guinness, and has been extremely well-received.
Guinness campaign featuring female footballer, DMWF 2019
Another great example he mentioned was the Royal Challenge Whisky brand in India. For the latest Royal Challenge ad campaign, Diageo shifted its previous focus on male characters to female ones, and saw a 70% boost in ROI as a result.

+70% ROI for a campaign after incorporating positive gender portrayal in India, DMWF 2019
When you're talking about such massive numbers, it's no wonder brands are starting to pay attention.
"What's good for the world is good for business"
Championing diverse and meaningful gender portrayal in advertising is the right thing to do. However, it also happens to be great for the bottom line.
As Diageo have found out, consumers respond positively to more realistic examples of gender and diversity. When people see more nuanced representation in advertising, they pay attention.
The business case for equal gender portrayal, DMWF 2019
And as Malcolm D'Sa says, "What's good for the world is good for business."
Global brands like Diageo can do a lot to create change. As the owner of over 200 alcohol brands, including Johnnie Walker, Baileys, and Ciroc, Diageo has a huge amount of power to push for the positive portrayal of gender in alcohol advertising.
Agencies that wish to work with great brands will be motivated to follow suit. If enough big brands pay attention to this issue, we could very well see the end of alcohol advertisements that treat women as nothing more than punchlines.
To truly make progress in this area, companies need to understand their customers in detail, and give them more of what they want. That's why it's so important to have access to informed consumer insights.
If you're interested in what our social listening can do for you, don't hesitate to get in touch.