There have been a lot of changes with the Instagram API this year. This has made a lot of people worry about whether we can continue to get insights and data to keep up their Instagram marketing.
In this post, we'll explain what's changed, how we're approaching these changes, and some tips to help you continue leveraging this fast-growing platform.
As a reminder, Instagram deprecated its legacy hashtag search API in favour of the new Facebook Graph API, more respectful of data privacy, bringing some new restrictions in the access of Instagram data. Concretely, Instagram now makes a distinct difference between:
Business accounts (influencers, celebrities, businesses, individuals looking for visibility, in short public accounts) consisting of people who've made a conscious decision to be public and of which we are able to monitor the content as before,

The rest of us, i.e. people who haven't given explicit consent to be monitored and whose content is accessible but on an anonymous basis.
Moreover, Instagram reopened access to features within its APIs (like hashtag search) that shows social listening is still possible on Instagram. Great news for our industry!
What data is available on Instagram after December 11?
At Linkfluence, we've always seen Instagram as a priority as the platform is especially important for our clients in many industries such as luxury, wine & spirits, food, fashion, automotive, etc. We've been a Facebook marketing partner for 2 years and kept investing in the Instagram integration. We have worked hard those last weeks to provide the best Instagram coverage on the market for 2019. By working with us, here's what you can access:
Business accounts:
Thanks to our brand new Linkfluence post search on Instagram that searches within a corpus gathering Instagram business accounts, you are able to access the following data:
Post content

Caption content

Media content

Content analysis through AI

Impression calculation

Reach calculation

Like actions

Comment actions

Analytics on authors

The possibility to monitor a corpus in an exhaustive way

The exact date of post
Anonymous accounts:
With the new Instagram hashtag search API, we're providing access to all account publications on an anonymous basis. While preserving privacy, this new implementation retrieves interesting content to capture the voice of consumers, even when they're not influencers:
Post content

Caption content

Media content

Content analysis through AI
For instance, brands are able to follow the evolution of the volume of posts to evaluate the share of voice per topic. They can also analyse content from Instagram publications to learn about the moment of consumption, way of consumption, what people think about their product and services, etc.
Your own accounts:
If you want to measure your community management performance, to the extent of switching your account to Business, you can keep accessing the same type of content from the same queries displaying the same analytics in Radarly.
By plugging your Instagram account within your project, you can monitor:
posts and stories of your account

all the engagement and performance of your posts and stories

posts that mention your username

posts that mention your username in a picture
All this allows to measure the whole performance of your Instagram presence.
With the above combination, Linkfluence provides you comprehensive coverage of Instagram so that you can leverage insights from public, anonymous and owned accounts and optimize Instagram as a key marketing channel for your brand.
Instagram marketing refresher: 3 best practices brands can use to make the most out of the fastest-growing social platform
As a marketer, and particularly a B2C marketer, be sure that Instagram remains a powerful weapon if you want to:
1/ Discover influencers and measure their performance
Influencer marketing has expanded exponentially over the last few years, and it's now an important part of marketing budgets. Today, 93% of influencer campaigns use Instagram, according to a study by CreatorIQ shared with Mobile Marketer. This figure confirms the strength of Instagram for influencer marketing purposes and its leading position among social media platforms.
Most influencers on Instagram already have a business account. As the number of business accounts is very rapidly growing under Instagram's own promotion (if only to get access to your own analytics or to link it to your Facebook page), the proportion of influencers with business accounts is likely to get close to 100% (note that most brands are now systematically asking influencers to have a business account to participate in their influencer programs).
Source: Statista 2018
This number of business accounts shared by Instagram a year ago is certainly underestimated today as, for a few months, Instagram has been aggressively communicating the benefits of being a business on Instagram.
First step: Influencer discovery
In this way, Instagram remains an exceptional way to identify new influencers. To evaluate good new influencers on Instagram, you can look at a combination of: the number of posts, the estimated reach of this audience, and the engagement the potential influencer reach.
All this data is of course available in Radarly for business accounts:
Second step: Performance measurement
After activating influencers for your marketing campaigns, you need to ensure the success of these activations. To measure the efficiency of your influencer strategy, you measure the reach and engagement obtained.
This data is fully available in Radarly for business accounts (whether before Dec. 11 or after as shown below):
2/ Get consumer insights
At each stage of the buying process, shoppers use social media: to get inspiration - PwC's 2018 Global Consumer Insights Survey found that social media is the number one source of inspiration for consumers; to get feedback on a product or service they aim to buy, to buy it, and finally, to express their thoughts about their buying experience.
Consumers express honest critiques of products, share their thoughts in an immediate way, meaning opinions are often provided in real time. This makes consumer insights powered by social media a very relevant form of market research.
By collecting this feedback, marketers and advertisers get a huge opportunity to capture their audience's needs and expectations, and then match their products to consumer demands and better market their offerings to their customer base.
By using Radarly querying capabilities for Instagram, brands can get a sense of the type of visual content associated with their brands or topics:
And by leveraging our powerful AI algorithms, you can get even more granular to understand what your target audience is expressing:
So while this new implementation preserves the legitimate right of everyone to remain anonymous, we still have access to the content of Instagram users even when they don't have a business account. And brands using Linkfluence platforms and services will continue to get consumer insights and learn about what John Doe really wants.
3/ Detect new trends
With the rise of social media, people are sharing more and more of their daily lives, including their choices as consumers. Instagram is the platform of choice for that. It's a goldmine for brands to detect new opportunities from social media user activity, capture emerging trends and weak signals, as well as to analyze key sentiments associated with a topic in order to better cover all consumers needs and gaps in the market.
December 11th didn't heavily impact our customers who still are able to detect new trends. For instance, one of our customers who operates in the luxury industry follows a trend around skin care. As you can see below, we can't see any meaningful drop around December 11th.
Volume:
Reach:
As the content is still available for all Instagram accounts, you can explore different features to see emerging trends.
Instagram Picture wall:
From a Trends dashboard of one of our Beauty customer: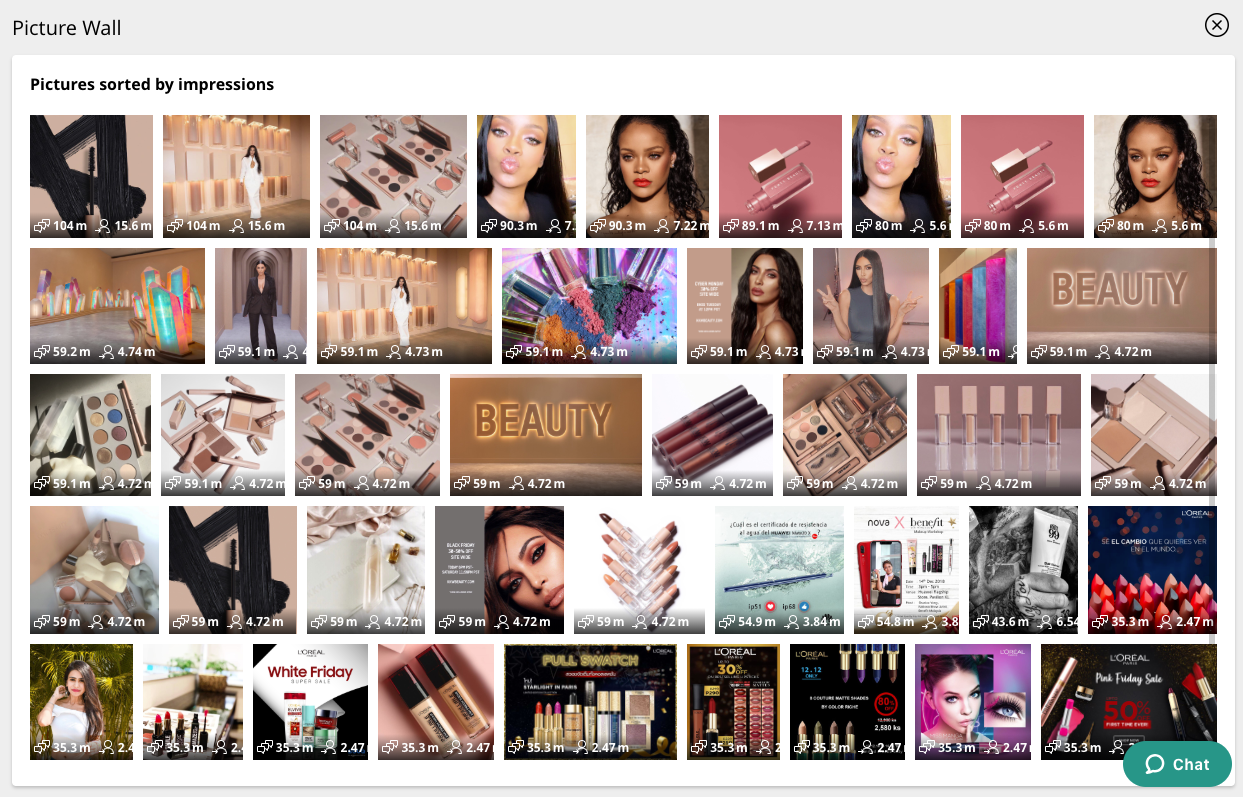 Emojis:
As an Instagram Partner and a Facebook Marketing Partner, we keep working super hard to give you the best coverage of Instagram at all times and we are proud of being able to provide quality answers to our customers. We hope this post will inspire you to leverage Instagram social data.
And if Instagram is an important channel for your 2019 marketing plan, we'd like to schedule a free demo of Radarly capabilities.