Following the short-mid slow down in sales, global brands are seeking opportunities to supercharge their growth next year, plug the financial gap and get a head start. Given the current circumstances, and an accelerated shift in consumption and spend patterns, it has now become crucial to find new ways of tapping into audiences affected, and to an extent transformed, by the events of 2020.
Sporting events, celebrity endorsements and brand ambassadors have historically been the go to for brands seeking to increase their reach. Are these still relevant tactics today?
The key to successful collaboration lies in identifying opportunities most suitable to a brand's specific need. Selecting the right partner must be based on evidence and data. From mentions of competitive services and products, to unprompted conversations and spontaneous reactions to campaigns and product activations, well-structured data is an innovation driver. The sponsorship opportunities are waiting to be uncovered and real-time, AI-enabled consumer insights are key in the process.
The beverage and CPG sectors have been quick in adapting to the evolving market landscape. The success can be attributed to a smart use of consumer insights and data. Understanding who is talking about a brand, how consumers relate to products during key consumption moments, and how global events impact these patterns, will give you a leg up over the competition. More importantly, it will likely ensure growth in 2021 and increase brand visibility amongst existing and new audiences.
Start With Your Strengths: When is your brand talked about?
Collecting the right and relevant social data gives an intimate understanding of key consumers. As buyer and consumption journeys become more complex, the advantage lies in how this data is structured. In other words, focusing only on content which adds qualitative value and can be turned into actionable insights and recommendations. Information on where consumers congregate, when specific experiences peak, whether they occur online or offline, and which events drive sales, affect production and the sales cycle. They also impact whom a brand is associated with, and when and where those partnerships should be marketed. From national holidays like Christmas, St Patrick's Day or New Year's Eve, to smaller gatherings, intimate meet ups and virtual parties - real-time reactions and conversations focusing on these events are valuable sources of insights.
By tracking exposure and engagement within those specific communities, brands can better understand consumer passion points. The most engaged tribe members can help to identify main strengths of a service - as seen by those experiencing it first-hand, not the corporate team responsible for a launch. Narrowing analysis to specific product mentions, focusing on user generated content, and excluding sales pitches allows marketers to zoom into the language, preferences, values and exact needs of the consumer. It gives a true understanding of what a product means to those who use it. An important step in the process of identifying ways to connect with consumers and optimize sales.
Looking beyond typical product associations can bring unexpected surprises in the form of insights. Practically speaking, although you may anticipate how your brand is perceived by consumers, they might find different ways of incorporating products in their lives. For example, Baileys and Kahlua are often associated with coffee hangouts, with consumers on the social web discussing both brands in reference to the coffee giant Starbucks.
Baileys Irish Cream, an alcoholic liqueur flavored with cream, cocoa, and Irish whiskey, already promotes a Baileys Irish Coffee. This micro-consumption moment is a great opportunity to make a sponsorship connection with a coffee brand. Kahlua Rum and Coffee Liqueur also features an extensive cocktail recipe list. These flavor profiles appeal to their tribes and present an excellent jumping point for future collaborations.
Once key consumer posts are identified, AI enabled insights offer a closer look at what users focus on when they don't discuss specific brands or products. Their posts help to discover what appeals the most to selected audiences, what type of content they readily engage with, and who online they follow. That 360 picture gives an idea of potential events and individuals who are likely to benefit a brand from the sponsorship and partnership point of view.
Passion Points: Identifying Opportunities
As the micro moments and events relevant and cherished by fans are explored, the adjacent conversations will be key to understanding a brand's reach. Insights on how consumers spend their time and what they care about create more impactful marketing strategy and sponsorship opportunities.
Heineken's key products are alcoholic beverages, however their brand partners and sponsorships are vast. Covering topics from sustainable transportation and water initiatives in Asia and Africa, to encouraging sportsmanship and responsible drinking through their sponsorship with Formula 1 and the European Rugby Champions Cup - the brand has truly understood what matters to their key audiences.
FORMULA 1 X HEINEKEN: "When You Drive, Never Drink"
Sports are a natural partner to the beverage industry and spectator events are a major consumption moment. Focusing on those initiatives has paid huge social dividends for Heineken, as nearly half of the brand's topics discussed on social relate to large televised sports tournaments.
Source: Linkfluence Radarly, Heineken Topic Wheel
Heineken's sustainability efforts that go beyond their supply chain have not only been noticed but also applauded by the social communities. The brand has been discussed positively as they work to limit their environmental impact, even receiving accolades from the Dutch Government. They maintain a strong reputation across sustainability topics, with the knowledge that environment is a key concern to those who consume Heineken.
Source: Linkfluence Radarly, Heineken and Sustainability Sentiment
Sustainability is a peripheral challenge for the beverage industry, and it's reflected in how the forward thinking brands try to address it. While companies like the Dutch Brewer have partnered with both companies and governmental agencies to target their consumer passion points, others have yet to fully capitalize on the opportunity.
The Coca Cola Company is the longtime partner and sponsor of major sporting events, including the Olympics. Despite these hugely positive and lucrative sponsorship deals, the company still faces backlash for its sustainability practices. With such a wide product portfolio, it is no wonder the organization has taken the brunt of criticism alongside global brands like Pepsi and Nestle:
Source: Linkfluence Radarly, Coca-Cola Sustainability
Businesses can better isolate who and what to sponsor if they know what their audience cares about. Coca-Cola could pursue new sponsorship opportunities in sustainability to better address this consumer passion point.
Successful and Impactful: Winning Sponsorship Campaigns
Sponsorship opportunities are most valuable when they increase brand awareness and perception. While the advertising cycle may be costly, the intangible benefits of a successful campaign can propel the brand to further success. For the beverage industry, the winter holiday season is typically the biggest consumption moment of the year, with champagne leading the category. The sole outlier? The popular liquor, Tequila.
In the North American market, tequila actually experiences a dip in the colder months of the year. Although it is one of the weakest categories around Christmas and New Year's Eve, when all other categories spike substantially, it wins the spring. The volume of conversations around tequila at this time of the year nearly matches the mentions for the popular holiday celebration beverage, Champagne, in the winter holiday season.
Source: Linkfluence Radarly, All Categories (Alcohol), Tequila in Green, Consumption Moments
Cinco de Mayo carries the category to a bonanza consumption day, and brands like Patron, and Don Julio move to take advantage of the moment with big sponsorship pushes. Even with the restrictions on gatherings and movement in 2020, Don Julio offered its customers an opportunity to win a celebrity host for their virtual Cinco de Mayo celebrations and collected donations for the hospitality industry.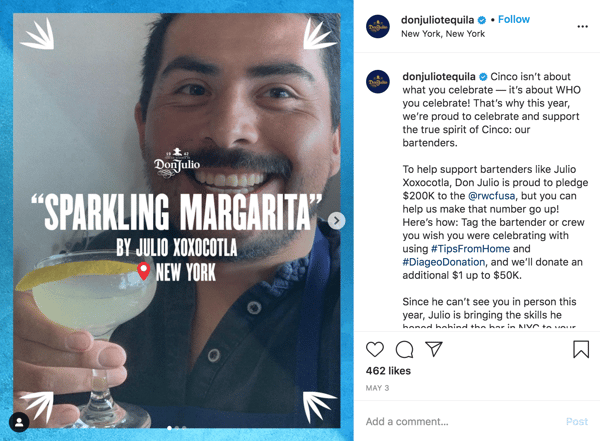 With such success around this day, other associated brands have initiated sponsorship deals to take advantage of the Cinco de Mayo holiday. Cointreau, an orange-flavoured triple sec liqueur produced in France, is a popular ingredient in Margaritas which is a key Cinco De Mayo cocktail.
The Key to Sponsorship: Social Insights
Always-on, real-time consumer insights are a crucial part of a brand lifecycle. From innovation and strategy to the execution itself, data and context received "in flight" mean marketing teams are able to make informed decisions. As the competitive landscape becomes more challenging, and consumer journeys more complex, timing is everything. Social intelligence helps brands discover previously unknown moments of consumption, identify passion points, driving the innovative thinking needed to ensure successful collaborations.
A brand's reputation is measurable on the social web. The risk of being misperceived, and appearing misaligned with the core audience is an ever present challenge. Consumers expect to see partnerships which fit with a company's ethos and values, representing their own needs at the same time. With a brand and product reputation on the line, a laser focused approach is the key to creating effective campaigns.