Capitalising on consumer insights - why agencies shouldn't ignore social media
I'm going to start this post with a conclusion: social media intelligence helps agencies to optimise their business performance. From creative departments to client services and new business teams, the knowledge gained from listening to what customers say online is often what tips the scale. We understand that it's consumers who lead these days and brands who follow, why then do so many agencies still need convincing that social media cannot be ignored? If you're one of those skeptics (or your colleagues are) read on. Here are the five ways agencies can and should use social media.
1. Grow your business with data-backed evidence
How many pitches does your agency go through in a typical month and do you feel you've got enough time to sufficiently prepare for each? As an ex agency director, I realise that producing and delivering winning proposals is hard work. Making your agency stand out by offering a unique point of view and competitive edge is tough - you must go beyond the style and focus on substance to even hope for a positive outcome. You can have the most creative and inspiring heads in the room but, unless everything they say is backed by evidence, prospects are going to be sceptical.
Social insights are probably the fastest way to show you've done your homework. From demonstrating the lay of the land and size of the opportunity to pin-pointing specific unmet needs – with just a few charts and visualisations you're likely to get the other side hooked. And it won't cost you much!
What scares our clients most is the possibility of bringing back (and having to pay for) millions of data points, some of which aren't even relevant to their specific case. It happens. Someone in the company types in "make up" as a keyword and is surprised by what came back. All they needed to know is when glow became mainstream but instead they're faced with millions of posts in tens of languages, with marginal mentions of glow to make the matter worse. Good news! You don't need every single mention of "make up" to understand the glow trend. In fact, you don't even need 100% of content mentioning "glow make up". All you need is a sample, over-time conversation and quick context analysis.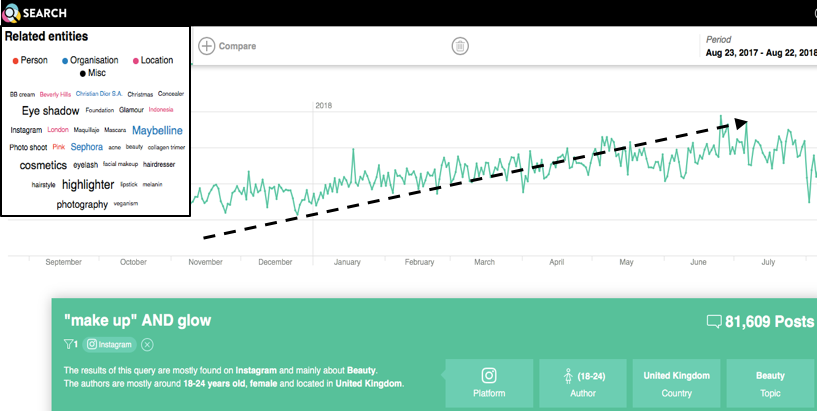 Linkfluence Search data for Instagram mentions of make up and glow in the last 12 months
I used Linkfluence Search to create this chart – without ordering new data, working with what we've got in the system already. Just like Google, but with specific focus on organic consumer conversation. It's that simple!
2. Improve planning and targeting
If you're not working on your next winning pitch, you're likely to plan your client's next campaign. Are consumers more interested in natural, every day glow or its evening edition? What is the role of natural ingredients in related conversation? Should you prioritise Manchester over Liverpool in your outreach activity? And who is the audience likely to listen to when it comes to make-up tutorials? Do you go for a celebrity or find a micro-influencer online who is probably more flexible when it comes to potential collaboration?
All these are important questions to ask and through social media listening you can answer them really quickly – without the lengthy process of screening, traveling to relevant locations or getting through to agents. With the right insights (and data behind them) you're able to convince clients your ideas are worth investing in because they answer specific need and target people who have already expressed interest.
3. Measure your (and your clients') success
You planned the campaign. You executed it and have a hunch it was a success. The concept was original, the targeting was spot on, your messages cut through and you're sure it's only a matter of time before sales spike.
Attributing increase in profits to a specific activity (especially if run through multiple platforms and media) is tricky. We're still waiting for a bullet proof formula which will help us pin point key success drivers and allow their creators get the recognition they deserve. Until this happens, use social media to measure and evaluate activities. Stay away from the so-called "vanity metrics" and ensure you present clients with context. It's all good and well to know a brand, or even specific product, was mentioned over 1 million times when the campaign was live. However, is this more or less than their average? How does it benchmark against competitors? If their mentions increased as well, it's likely to be caused by a specific industry-related event not the campaign, unfortunately. What about consumer reactions? If you saw spike in positive brand sentiment during and post the campaign – what and who drove it? Positivity can be expressed in so many ways these days – opinions, recommendations, visuals. Make sure you capture them all to give clients a full picture.
4.Strengthen your positioning
Your content and what people read about you will impact their decision-making process. Make sure you give them something to work with.
Is your content optimised and created with a specific audience in mind? Are you discussing topics and themes relating to your end user? In fact, what are the topics and themes you should focus on?
You guessed it – social insights can help to answer these questions and put you top of mind of your existing clients (retention!) and new partners. Why not set up a live competitor tracker to keep your finger on the pulse and learn from other key market players? Fill in the gap, talk about subjects not discussed by others or provide an alternative point of view. Is your agency an expert in a specific field? Listen to the ongoing conversation and offer live commentary to events affecting your prospects and clients. This is how you demonstrate relevancy and expertise.
'Clusters' in Radarly shows emerging trends and topics related to your brand
5. Manage, preferably avoid, crisis
The least favourite topic and something we all hope is not going to happen to our client. The crisis. Product recall, network outage, leadership challenge or supply issues. Unfortunately, for many it's a matter of "when" not "if". What can you do to prevent it? And if it happens, how can you understand the impact and, more importantly, plan a response? Your action plan will differ, depending on the cause but there are some key principles I recommend you keep in mind:
Proactively listen to the conversation surrounding your client and set up alerts to inform you of sudden changes. This can be sentiment and perception changes but also specific keywords or mentions coming from certain publications and users. Tip: A powerful tool like the Meltwater social listening platform will make this a lot easier. Give it a go!
React fast but don't panic. Objectively evaluate weight of the conversation, compare it to historical data to check for patterns – you need to see the big picture before deciding on what you're going to recommend.
Listen in real-time and give regular updates. A concise and to the point summary with suggested focus points is all clients need so be smart in using social insights.
Each of these points can be a separate and dedicated use case but I hope this overview is the food for thought you needed – whether to convince yourself or your stakeholders. It's not a matter of a "nice to have" anymore but a must. It impacts productivity and efficiency, is very likely to boost your performance and puts you in line (if not ahead) of the competition.
If you'd like to hear more about our success with agencies that are using social data to fuel strategies. Take a look at our recent chat with Publicis below...