Last week, Linkfluence participated in TMRE Digital Week and discussed contactless research as our Chief Revenue Officer, Phillip Denis, spoke with ESPN's VP of Research & Insights, Renata Policicio.
The Industry Landscape has changed
The coronavirus outbreak has led to fundamental changes across the insights industry as companies and brands adjust to a world where traditional market research methods, such as in-person focus groups and surveys present a challenge. Even before the outbreak, the speed of production and results stemming from classical methods raised questions, with brands eager to understand and connect with consumers faster, in real-time. Add to these safety concerns coming with a face to face research and a new, more flexible and speedy solution was needed.
The sports industry is a perfect example of this shift since stadiums have been empty for months as players and fans alike were kept from sports as the pandemic spread. While different sports leagues across the world have begun to slowly return, the virus continues to affect how organizations are interacting with their consumers and fans. Thanks to the rapid innovation and advancements in technologies available, social intelligence has increased in popularity and effectiveness in recent years. The forward-thinking brands have begun to see how valuable it is to understand their consumers in real-time and at the speed of social media.
As sports seasons continued to hang in the balance, different leagues, teams and industry leaders looked to regions that were ahead of them. For example, the KBO League in Korea was one of the first major sports leagues to return to action. This helped pave the way for the German Bundesliga and top-flight soccer to return in England, Spain and across Europe. With these leagues returning, social insights allowed teams to understand what fans enjoyed and what they disliked as games were played in empty stadiums. The more sports began to return, the more important analytics were. For example, as the Bundesliga returned, ESPN was interested in understanding whether fans preferred artificial stadium sounds to silence during the streaming of games. These insights will be valuable for broadcasters across the sports world as the MLB and NBA plan to return in the US in July.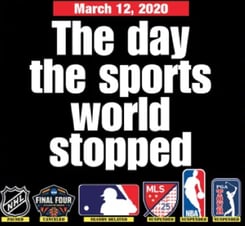 A good example of this was the 2020 NFL draft, where ESPN had 500 cameras in 500 houses of players, coaches, and fans as the in-person draft was canceled due to Covid19. Though the draft in Las Vegas was expected to be the largest draft ever, ESPN capitalized on their online presence and created an all-virtual event that ended up being the most-watched in the history of the league.
Champions Adjust: timing, topic, or both?
While sports were essentially non-existent during the lockdown, ESPN saw an opportunity to air "The Last Dance" three months earlier to help fill the void that was felt in the hearts and minds of the fans. Both the social media reaction and show ratings revealed how impactful it was, overtaking Netflix's "Tiger King" as the most popular documentary in the world.
The Last Dance helps us understand the connection between sports and culture, as social listening helped us understand different groups of sports fans online, or Tribes. With our Tribes approach, we were able to identify how widespread and diverse groups of fans were relating to The Last Dance itself. The solution goes beyond basic numbers to understand the psychographics of different groups and why people who may not usually have interacted with sports culture were so active and interested in the documentary. Through social insights we understood how this connected them with others who expressed similar sentiments and behaviors online.
The overlap between sports and sports culture with The Last Dance helped ESPN make further connections with fans and consumers. One goal was to understand how the in-home experience has merged with pre-lockdown experiences, such as workouts and exercise behavior. For the first time, ESPN organized two Peleton classes with celebrities to connect with their fans in a new way. By doing so, they ensured that the experience was relevant to their at-home audience. The changes that have taken place in recent months have kept people out of gyms and limited to workouts at home. This change in consumer habits has had monumental impacts as brands such as Nike, Lululemon, and Puma have drastically increased the promotion of their exercise programs and apps. Nike's service, which is usually a paid program, was made free for all users – showing how important it is to understand the needs of your consumers with the context of what's actually happening in their lives.
Brands meet consumers where they are: Home
With these changes across industries, the pandemic has solidified the increasing trend of real-time customer-centricity in consumer research. Brands must keep pace with their customers. This warrants a new way to approach understanding fans and consumers online – connecting with different groups in ways that are relevant to them specifically.
As sports fans adjusted to life without live games for the past few months, sports media companies have had to change their approach to engaging and entertaining fans. Information, stats, and sentiments from three months ago have shifted drastically, whether it be about the sports industry, fashion, or alcoholic beverages – things are constantly moving in this "new normal". These changes reveal the weaknesses of focus groups, especially when brands can have access to unbiased, raw, and real-time reactions from consumers that are continuously updated. Social insights offer recommendations on how to mitigate the negative consequences that have occurred across the consumer landscape. Few industries have felt this more than the sports category, where fan reactions, attitudes, and behaviors change throughout a single game. Without thousands of fans in stadiums, brands, teams, and leagues have turned to social media to listen, understand and engage. Insights professionals leveraging this data are prepared to adapt their programming and approach to remain relevant as stadiums remain empty.
To listen to the webinar, click here and better understand what's happening as organizations are adapting to the need for real-time consumer insights.