The effectiveness, urgency, and risks of immunization have been long debated. Since 2012, the World Health Organization (WHO) has held the annual World Immunization Week in an attempt to highlight the importance of vaccination for protection against contagious diseases. Linkfluence analyzed the buzz on social networks regarding World Immunization Week 2017 from April 24th-30th.
When Lionel Messi called for vaccination on social media, it had an immediate impact. The famous footballer has an incredible number of followers on his social media channels. When he published a photo supporting the "To Leave No One Behind" campaign on April 28th, during World Immunization Week 2017, it reached 6.16 million people, making Messi the most influential user on social media.
Both Parties Benefit Through Influencer Marketing
There is a significant difference between influencer marketing and regular celebrity commercial marketing campaigns. In the above example, both the charity and the celebrity's image were endorsed. UNICEF benefited from Lionel Messi's huge social media outreach, while the athlete earned a reputation as someone who does good for the world. In regular commercial campaigns, however, the brand alone benefits from the celebrity endorsement. Indian Premier League Cricket team, Kings XI Punjab, also joined the campaign and shared it on their Facebook page, reaching 4.03 million people. They were the second ranking influencer who spread the message across their country and targeted English-speaking fans of the sport. CNN reached 3.83 million people, making the popular news network the third ranking influencer on Facebook in terms of outreach.
Who Discussed the Topic?
Immunization week was not only a hot topic among celebrities and sports stars. It was also the point of discussion among those working in the relevant fields. Doctors, pediatricians, pharmacists, and scientists all took part in debating the pros and cons of immunization. Entrepreneurs and journalists also covered issues of immunization, as well as medical and pharmacological developments, and health issues.
According to the cross-country comparison in the following diagram, Germany had the least social media buzz regarding immunization.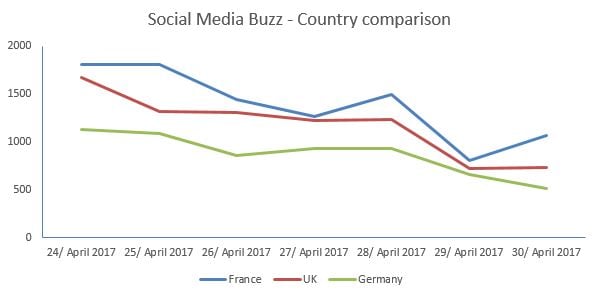 "Official" influencers like the media actively discussed immunization in all countries. However, Germany in particular saw increased activity from journalists, founders, and bloggers. People like Julia Probst, Holger Klein, and Lars Fischer are well-known "private" influencers in their respective fields on Twitter.
What Were the Reactions? The Content
Online attitudes towards immunization were mainly positive. The campaign did not indicate any scepticism towards immunization or carelessness regarding vaccination, which is usually quite common in Germany. 52.11% of posts were positive towards immunization week. There were many retweets of posts by the WHO's official Twitter account while 38.03% of posts were neutral. These posts were mainly about medical developments such as the testing of the new malaria vaccine or political plans to introduce a general mandatory vaccination. Only 9.15% of posts were negative, mainly emphasizing immunization risks.
Which Channels are Relevant?
World Immunization Week was mainly discussed on Twitter. 59.82% of the total number of posts were published on the micro blogging site. WHO's Twitter page reached 17.5 million followers, which is the biggest outreach by any single account, yet. The second most influential Twitter account was that of CNN with 16.3 million people reached, followed by the UNICEF account with 8.24 million. Websites and Facebook were less influential with only 12,81% and 12,28% of posts published respectively. The total number of posts regarding immunization week was 86.400, with a potential outreach of 216 million users. The total number of impressions at the time of the report's publication was 2.8 billion for the entire period.
A longer version of this article was published in Healthcare Marketing. Please contact us if you are interested in this longer version or more information on this topic.